Appointments System
The doctor will see you in the surgery by appointment. This helps to reduce the time you have to wait. Your co-operation is essential to make the system work.
Appointments can be made at the surgery or by telephoning the 023 9241 2846.
You can also book your appointment via the internet. To use this facility you need to: (currently suspended due to Covid 19)
Visit the practice to obtain a PIN No. & ACCESS ID
Log on via the link at the top of this page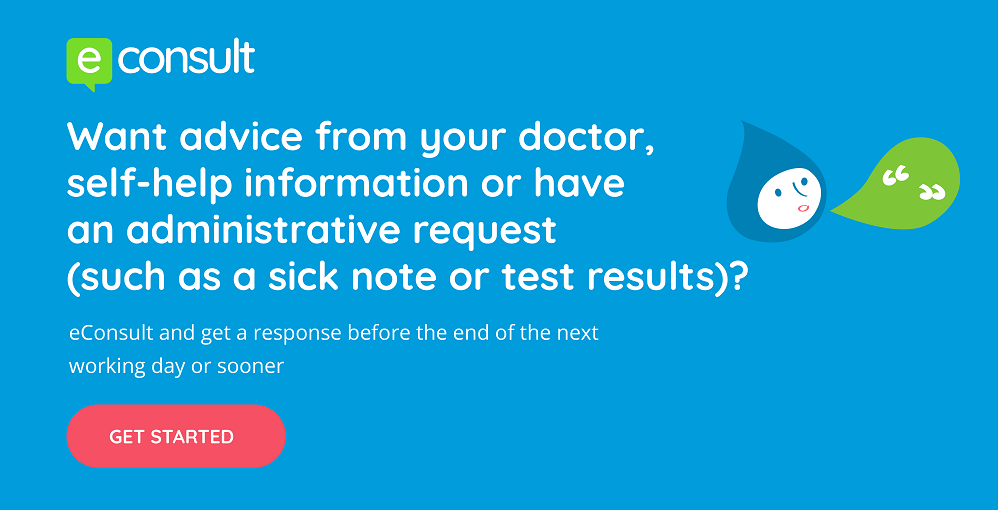 Is a same day appointment necessary?
The surgery tries to see or speak to patients on the day of their choice. You can book appointments in the future but we are currently making many appointments available on the day. The doctors try to keep to time, but some patients' problems inevitably take more time than others. For this system to work effectively it is important that patients should also consider either a telephone consultation or seeing the nurse for minor ailments.
Urgent Treatment Centre
Thinking of attending the emergency department at QA Hospital or the Urgent Treatment Centre at St Mary's Community Health Campus for an urgent, but non-emergency, need? Please remember that there is an urgent treatment centre (UTC) near you at Gosport War Memorial Hospital/Petersfield Community Hospital where you may be seen much faster.
Contact 111 on-line, or phone 111 to be directed to the most appropriate place for your need – and to get an allocated appointment slot so you can be seen at the right place, first time by the most appropriate healthcare professional.
The UTC does accept walk-in patients for people unable to use 111, but you may need to wait longer or may be directed to another care facility if clinically appropriate.
Home Visits
Whilst we encourage our patients to come to the surgery, where we have the proper equipment and facilities available, we do appreciate this is not always possible. In this respect, if you do need a home visit, you can help us by calling reception before 10:30.
You may only request a home visit if you are housebound or are too ill to visit the practice. Your GP will only visit you at home if they think that your medical condition requires it and will also decide how urgently a visit is needed. Please bear this in mind and be prepared to provide suitable details to enable the doctor to schedule house calls
You can also be visited at home by a community nurse if you are referred by your GP. You should also be visited at home by a health visitor if you have recently had a baby or if you are newly registered with a GP and have a child under five years.
Extended Hours
Saturday and early morning appointments are being provided at The Swan Surgery, Petersfield. If you work in core surgery opening times you will now have access to nursing as well as GP appointments outside normal surgery opening hours. Please ask at reception for more information.
There are also GP Hubs at Waterlooville, Petersfield, Fareham, Bordon and Gosport that will provide GP and nursing appointments Monday to Friday evening and all day Saturday and Sunday. Our receptionists can book you an appointment at these hubs or you can ring '111' when we are closed.
Late For Your Appointment
Please attend your appointment on time, if you are late you may not be seen. If you are not seen you will not be able to rearrange your appointment until the next working day-except in the event of an medical emergency that requires immediate attention.
Interpretation and Translation Service
The practice has access to the above service if a patient is deaf or does not speak English and cannot be accompanied by a relative who could translate for them. Ask at reception before making the appointment.
Cancel an Appointment
It is important that you inform the reception staff if you are unable to attend your appointment, this will allow that appointment to be offered to another patient. If you fail to notify the Practice that you are unable to attend, you will be sent a letter informing you that you have defaulted from your appointment. Persistent defaulters maybe removed from the list.
You can also complete our appointment cancellation notification request form. This can only be used if your appointment has been arranged for more than 24 hours in advance. (excluding weekends and public holidays). You can also text to cancel your appointment.
Text Reminder Service
We have a texting service which allows you to receive confirmation and reminders about your appointments.
To have this service you will need to register by completing a consent form.
Please remember to update your contact details with us when you change address, telephone numbers and email address.
Training & Research
Medical Students
The Practice is a Training Practice for final year medical students. When the doctor is training, they may sit in on your surgery consultations or possibly see you prior to you seeing the doctor. If you would prefer to see the doctor alone, please inform the receptionist, who will be happy to arrange this.
Research
The Practice is involved in General Practice Research, this occurs in conjunction with the Primary Care Research Network South West. The Aims of this network are to:
Improve the evidence base for primary care.
Inform the prevention, diagnosis, treatment and management of illness and disease in primary care.
Facilitate and increase the Participation of General Practices, primary care practitioners and patients in research.
Please be aware that if you are invited to participate in a study, whether you accept the invite or decline, this will not affect your care or relationship with the practice in any way.